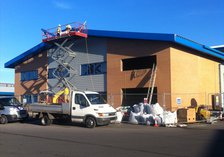 Any commercial construction you have in mind. These include complete retail units, office refurbishment, warehouse extensions and many more.
At C.S Construction Ltd, building contractors in Hinckley, our skills are versatile and our standards are high enough to meet almost any commercial constructions project in the Midlands to exact standards and within strict deadlines.
C.S Construction Ltd's diverse experience with warehouse constructions, office building construction, steel frame buildings, distribution centres and food projects, factory extension and other types of facilities has allowed us to build numerous highly successful commercial constructions in Leicestershire.
Well established builders in Leicestershire, are registered with the National Federation of Builders. Our commercial construction projects span across Leicestershire, Warwickshire, Staffordshire and Northamptonshire as well as the Birmingham area.