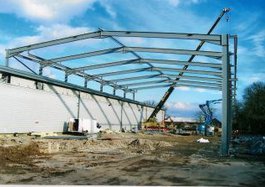 C.S Construction Ltd, reputable building contractors have managed many commercial construction projects in Leicestershire, including warehouse extensions in Leicester and bespoke steel frame buildings to suit our customers requirements.
CS Construction team of Midlands builders provide warehouse extensions and distribution centre construction, building renovation, office refurbishment as well as maintenance for warehouses and commercial buildings in the Leicestershire, Warwickshire, Staffordshire, Northamptonshire and Birmingham area.
We have successfully managed a warehouse extension in Leicester and office refurbishment. Contact us to find out more about warehouse extensions and other building projects carried out by CS Construction Ltd, Building contractors in Hinckley.